Friday, June 12, 2009
Broccoli Slaw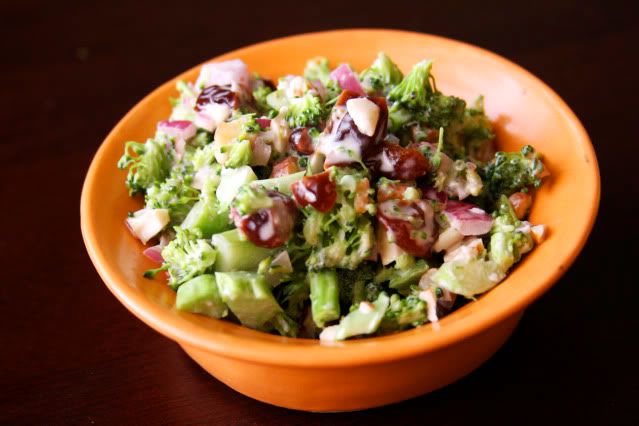 I received broccoli in my CSA and just assumed I'd steam it and serve it with fish or chicken. Well, we decided to grill out one Sunday and invited our friend over with his teenage kids. I began to browse my bookmarked recipes for side items. I quickly zeroed in on this recipe from TheKitchn, as a different way to use the broccoli. Like the original author, I too, remembered a crunchy broccoli slaw in my past and yearned for a healthier version. I ended up changing a couple things from the original recipe. Instead of currants, I used tart, dried cherries. And I made mine even healthier by using a combination of light mayonnaise, reduced fat sour cream, and nonfat greek yogurt instead of just mayonnaise. I really liked the tang the sour cream and greek yogurt gave it. If you don't have easy access to greek yogurt, feel free to just use sour cream. Or, if you prefer, all mayo. And I used red wine vinegar, instead of rice wine vinegar because I had that on hand.
We all loved the slaw. It went great with our Mojo grilled chicken (thank you Publix marinade), grilled sweet potatoes, corn on the cob, and cocoa brownies with peanut butter chips. The leftovers disappeared pretty fast too! I can't wait for another cookout opportunity to make this. It just might be my new signature salad dish! The combination of the crunchy chopped almonds, crunchy broccoli, tart & sweet cherries, and the tangy dressing was truly a harmonious union. Uptown Girls, expect to see this on 4th of July!

Broccoli Slaw
adapted from TheKitchn
3 heads broccoli
3/4 cup plus 2 tablespoons dried cherries (I recommend the bigger, plump ones, not craisins)
1/2 cup finely chopped red onion
3/4 cup chopped whole almonds
1/4 cup light mayonnaise
1/4 cup reduced fat sour cream
1/4 cup nonfat greek yogurt
2 tablespoons lemon juice
2 tablespoons rice wine vinegar
2 tablespoons sugar
1 teaspoon salt
freshly ground pepper
Chop broccoli, red onion, almonds, and dried cherries and combine in a large bowl.
Whisk together the mayonnaise, sour cream, yogurt, lemon juice, vinegar, sugar, salt, and a few grinds of fresh pepper. Pour the dressing over the broccoli mixture and stir to combine. Taste and add more salt or pepper, if needed. Allow to sit for 30 minutes (or an hour in the fridge) so the flavors can mingle.