Sunday, May 10, 2009
Caramel Cocoa Crispy Bars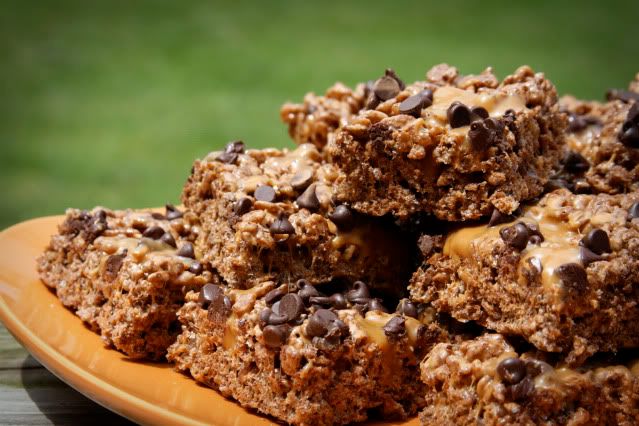 To say I love my new camera would be an understatement. I adore my new camera. And the lens? Oh…. this lens. If I could marry it I would. I could cry right now, I'm just so happy to finally have a camera of my own; one I don't have to take back to my dad. My heart soars right now. Literally… I'm floating high with excitement. (PS. I did NOT pay those prices for my camera & lens. I'm just showing you what I've got. I come from a long line of bargain shoppers who know how to find a deal.)
You know what else makes me extremely, excited? Being able to share this incredibly delicious concoction with you. Rarely do I dream up desserts or recipes. Sometimes they work out, and sometimes they don't. But this dessert I dreamed up, far exceeded all my expectations. It came together tasting better than I could have imagined.
(Hopefully this is the last photo you'll see on my blog with the point & shoot!)
I was first tipped off about these Kraft Jet Puffed Caramel Vanilla Swirl marshmallows when The Stepford Kitchen made Rice Krispie Treats with them. I kept my eye out for them, but the grocery stores I shop at most often are Kroger and Publix, and I've never seen them there. Recently I was at Walmart, and (big surprise) browsing the baking aisle, and *ta-da* there they were. I immediately snatched some up, and saved them for the perfect occasion. When we decided to have a casual grill-out potluck for Mother's Day, I knew this would be just the perfect dessert to bring.
In between the actual buying of the marshmallows & the making of the treats, I began to envision more than just a regular Rice Krispie Treat. First I knew I wanted to pair them with chocolate because who doesn't love the chocolate caramel combo? So I thought, Cocoa Krispies. Then a couple days passed and I thought to myself "What if I drizzled them with melted candy caramels?" (perhaps this was just a shameless reason to buy candy caramels for later snacking, no?) As I made out my grocery list a couple more days later, I had another thought "I could top them with mini-chocolate chips!". (yes, these really are the types of thoughts that circulate my brain on a daily basis.)
This dessert would be perfect for a summer picnic, study snack, or afternoon treat. It's more complex than your average Rice Krispie Treat, that's for sure. But, it's not much harder than the traditional treat to make. Finally, I chose to call them Caramel Cocoa Crispy Bars for three reasons. One, I didn't use real Cocoa Krispies, I used to the Kroger brand Cocoa Crispy Rice. Two, I hate cutesy "kreative" spellings. And three, now we have alliteration. (Didn't know ya'd get an English lesson today, did ya?)
Caramel Cocoa Crispy Bars

Ingredients:

3 Tbsp butter
1 10oz package Caramel Vanilla Swirl Marshmallows
6 cups cocoa crispy rice cereal
12 candy caramel squares
approx 1 Tbsp cream, half & half, evaporated milk, or any milk (I used heavy cream because I had a tiny bit left in the carton and figured this would be a good use for such a small amount, this is just used to thin out the caramel and make it easier to drizzle)
1/3 cup mini chocolate chips (more or less depending on tastes)

Directions:

Line a 9x13in pan with plastic wrap and spray with nonstick spray.

Melt caramels in double boiler or microwave, add milk or cream once melted and mix together.

Meanwhile, as caramel is melting, melt butter in a large saucepan over low heat. Once butter has melted add marshmallows, stirring occasionally until melted. Once melted, remove from heat, stir in cereal.

Press into pan, (it really helps to use a spatula sprayed with cooking spray to press it down). Drizzle melted caramel on top, then sprinkle with mini chocolate chips. Let cool, and cut into bars. Enjoy!

Recipe inspired by: The Stepford Kitchen
**Warning, if left unattended, these have a tendency to disappear overnight**