Sunday, March 8, 2009
Chocolate Cake with Salted Caramel Frosting
Wow. Wow, wow, wow.
As The Boy's birthday loomed I began to ponder what kind of cake to make him. I asked, and he said "Something chocolate." Then he thought a little longer, and suggested the cake we had on my birthday, Hershey's Perfectly Dark Chocolate Cake with White Chocolate Frosting. While I was flattered to know he really liked that cake, I was itching to try something new! I asked him if he was ok with me surprising him with a cake/frosting combo, as long as it included chocolate. Luckily, he was fine with that.
After a lot of browsing, I was finally inspired by the sweet & salty combination of a cake in the Baked cookbook. The Boy loves salty flavors. I didn't use the Baked recipe, because I already felt really comfortable with the Hershey's recipe for the cake (which I previously made with Pumpkin Cream Cheese frosting), and I found this recipe for Salted Caramel Frosting that seemed pretty easy. I've made homemade caramel in the past, and it's such a decadent treat. It's QUITE addictive, so I can't let myself do it more than once or twice a year!
This (and I think I say this every time, but I really really mean it) is my favorite cake & frosting combo I've ever made. Wow. It truly was amazing. I can't say enough about it, you really MUST try it.
The frosting, which uses cream cheese & butter, as well as homemade salted caramel, is definitely not a stiff frosting. This cake is best kept in the fridge. Luckily because the cake is SO moist, it won't dry out. If it's kept in the fridge, the frosting will stay stiff and more stable, but if it's kept too warm it will begin to droop a little. One thing I do suggest is… don't try to put the cake in the car and drive all the way from Nashville to Atlanta. There's a chance this could happen.
I guess the weight of the frosting, as it began to warm up in the car, pulled heavy on the soft moist cake, and perhaps one of the curves coming down the big ridge pulled some of it down! 🙁 Oh well. I'm just bummed I didn't get a good picture of it before we left town. This was the best looking cake I ever frosted! It just didn't survive the trip down.
If you're looking for a cake & frosting combo that is unlike anything else, and you want a cake that will truly appeal to adult palates (without using alcohol, shocking for me, right?), then look no further than this cake.
Hershey's Perfectly Chocolate Cake with Salted Caramel Frosting

Ingredients:

CAKE:
2 cups sugar
1-3/4 cups all-purpose flour
3/4 cup HERSHEY'S Cocoa
1-1/2 teaspoons baking powder
1-1/2 teaspoons baking soda
1 teaspoon salt
2 eggs
1 cup milk
1/2 cup vegetable oil
2 teaspoons vanilla extract
1 cup boiling water

SALTED CARAMEL:
4 tablespoons water
1 cup sugar
2 tablespoons light corn syrup
1/2 cup heavy cream
2 tablespoons butter
1/2 teaspoon lemon juice
1/2 teaspoon salt, kosher or sea

FROSTING:
2 sticks butter
8 ounces or 1 package of Philly cream cheese
5 to 6 cups powdered sugar
1 cup salted caramel (recipe above)

Directions:

CAKE:
1. Heat oven to 350°F. Grease and flour two 9-inch round baking pans.

2. Stir together sugar, flour, cocoa, baking powder, baking soda and salt in large bowl. Add eggs, milk, oil and vanilla; beat on medium speed of mixer 2 minutes. Stir in boiling water (batter will be thin). Pour batter into prepared pans.

3. Bake 30 to 35 minutes or until wooden pick inserted in center comes out clean. Cool 10 minutes; remove from pans to wire racks. Cool completely before frosting.

SALTED CARAMEL:
1. Combine the water, sugar, and the corn syrup in a deep saucepan and cook over medium heat. Stir together with a wooden spoon until the sugar is incorporated. Cover the saucepan and let it cook over medium heat for 3 minutes.

2. After 3 minutes, remove the lid, increase the heat to medium-high, and bring to a boil. Do not stir from this point on, but it is important to carefully shake the pan so that one area of the caramel doesn't burn. Continue to cook until the caramel turns an even amber color then remove from the heat and let stand for about 30 seconds.

3. *** This is the dangerous part *** Pour the heavy cream into the mixture. Wear oven mitts, stand away from the pan, and be careful. The mixture will bubble up significantly. Stir the mixture, again being careful. Add the butter, lemon juice, and salt. Stir until combined.

4. Measure 1 cup into a Pyrex measuring cup. Stirring occasionally, allow to cool until thick like molasses and warm to the touch, about 20 minutes.

This recipes makes slightly more than 1 cup of caramel. You can reserve the rest for drizzling, like I did if you wish, or just eat it with a spatula. Your preference. 😉

FROSTING:
1. Bring butter to room temperature by letting it sit out for 1 or 2 hours. Beat butter and cream cheese at medium speed until creamy.

2. Sift 3 cups of powdered sugar into the butter/cream cheese mixture and beat to combine. Add 1 cup of the salted caramel and beat to combine. Sift 2-3 cups of powder sugar, in 1 cup increments and beating between each, until you arrive at the thickness and sweetness you desire. I used somewhere between 5-6 cups. The frosting wasn't super thick, but it was starting to get pretty sweet.

3. Let frosting set up in the refrigerator before using. After frosting the cake, keep it in the refrigerator before serving for a prettier cake!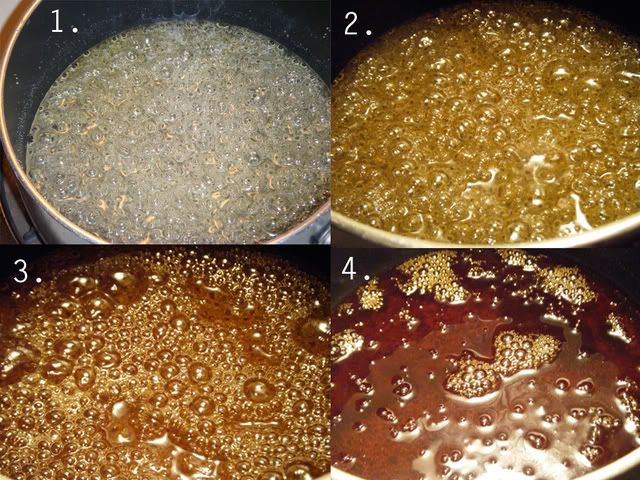 The stages of it turning to amber color. I let mine get to a pretty dark color amber to have a strong caramel flavor. Also, in my experience it will continue to cook, and get a little darker, even after you remove it from the heat, before adding the cream.

Apparently, this cake goes well with Yazoo Hefeweizen.